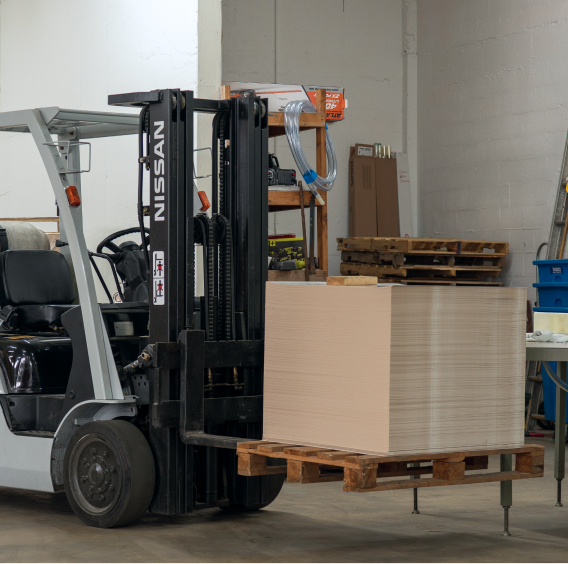 Paper sheeting is an operation involving cutting manufactured paper rolls into individual sheets, often performed by an industrial machine (the sheeter). An example of a machine we employ at Paper Point is the 55″ Moore & White Sheeter, equipped with a Chain piler with blower, SPS counter, a 480 V, 10 HP Motor and adjustable gear for sheet length.
Sheeters have two kinds of cutters: single rotary and double rotary. The single rotary has a stationary bedknife next to another knife mounted on a rotating cylinder. The double rotary simply has 2 rotating knives. The speed at which these 2 perform is adjustable and dependent on the desired dimensions, speed of the paper web moving through the cutter, shape, etc.
There are variations to the standard type of sheeting, including multiple roll sheeting (running through more than one roll at a time, saving time this way). After being cut, sheeted paper goes through another process called Trimming, which is basically ensuring that the sheet size is exact. However, there are also variations that save time and effort with Trimming, avoiding altogether most of the time, called Precision Sheeting. It simply uses extra precise cutters to make the Trimming part unnecessary.
There are many occasions in which your business can be positively impacted by the usage of Paper Converting and Sheeting. You start off with a simple roll of paper, and what you can create from it is up to your own imagination. Possibilities are endless. What type of product do you think your company can develop from a roll of paper that can have a positive effect on society and make life easier? Contact us with specific dimensions, products you are thinking of developing, testing requests, etc. A representative will hear your concerns with the one goal in mind: help your business grow.