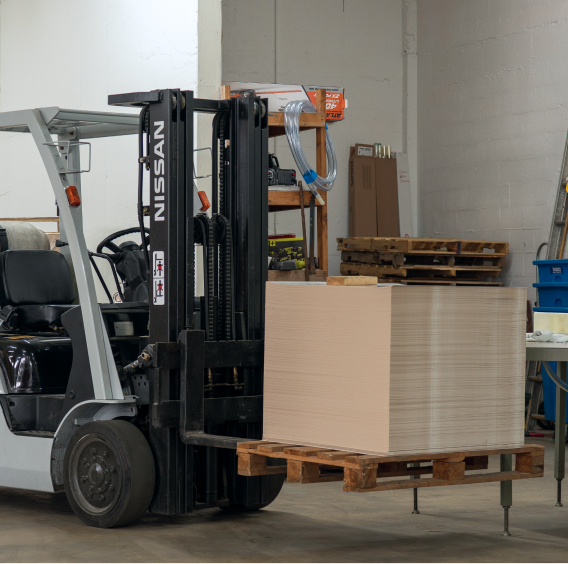 Paper Point's converting facilities in Miami contain the equipment and teams necessary to create top-notch custom die cuts for our customers. We score, perforate, fold and glue paperboard air filter frames based on the customized request from each company we serve.
We take pride in our paper converting. If our finished product after paper converting doesn't result in a high-quality frame, our partners' customers won't be happy with their air filter and will choose a different brand the next time. A low-quality paperboard air filter frame that is not stable, tight, and optimized with a filter clamping device will perform poorly when installed in an HVAC system.
Paper Point provides a variety of superior custom paper solutions that can benefit your business and help you be successful. Our manufacturing facilities are located in Miami, and we offer fast shipping all over the continental U.S., Mexico, and Canada.
We aim to provide customizable die cut paperboard filter frames of superior value for our customers by manufacturing high-quality, cost-effective, and environmentally-friendly products that result in increased sales for our partners in the air filter industry.
Call 786-384-5568 or request a quote now to get the best die-cut filter frames!
What does converting mean in printing?
Paper converting is one of the multifaceted services we offer at Paper Point. We have the paper converting equipment and expertise to meet our customers' needs when producing custom die cut filter frames. Our clients turn to us to get the exact paper materials they need for their company to manufacture or produce air filter products.
Web processing is when we use converter equipment to cut a web of paper and then fold it to convert it into a frame. A "web" is the name given to paper when it has been produced in a long, continuous sheet that is then rolled up into a coil for shipping and transportation. Webs can be up to 203 inches wide, or 516 cm, and weigh hundreds or thousands of pounds.
These sheets then go through the process of flexography to print your company design or logo before it is cut and shaped into a frame.
We offer industrial paper converting services in Miami and throughout the continental U.S., Mexico, and Canada, and source high-quality paper rolls, cartons, sheets, and die cut paperboard to our clients quickly whenever they need them.
What is flexography?
Flexography or flexographic printing is used to print a flexible finished product that can be used in various ways. A type of relief printing, flexographic printing involves applying ink to a raised image on a flexible plate, then pressed onto a flexible substrate. Then, we manufacture a flexible photopolymer plate that is exposed to strong UV light to get the colors just right.
There are three rolls used at each print station, each printing a single color, up to 10 colors: the anilox roll, the plate cylinder, and the impression cylinder. The resulting image on the cardboard is clear, colorful, and reflects your company brand.
Because of the advancements in flexography, image quality on products has increased over the last several years. Additionally, we have a more environmentally-friendly paper converting process by using water-based paints.
What does a packaging converter do?
The packaging converting process transforms raw materials from their original polymer pellets or film substrates, such as paper, into a final packaging structure. In short, it takes paper from its raw form and turns it into a usable product, such as an air filter frame. The paper converting process takes place at Paper Point's facility in Miami and consists of:
Roll slitting: cutting your web to the desired width
Sheeting: converting that roll into individual sheets of paper at the desired size
Flexography: used in many applications but can be useful to print a logo, design, instructions, and other information on your air filter frames
Coating: converting paper into something suitable for a specific application, like creating tags
Laminating: by request when you want decorative packaging or point-of-purchase display or sign
Why choose Paper Point?
Our manufacturing customers choose us for our rapid service, and because we offer customization with sizes to meet any goal. Our company specializes in making die-cut paper product air filter frames that can fit in any HVAC system.
We stand out due to the excellence of our paper converting and die-cutting services in Miami, with fast shipping to anywhere in the continental U.S., Mexico, and Canada.
Have a question? Contact us by calling 786-384-5568 or fill out a form so we can reach out to you and answer your questions.